Dr. Ramírez is passionate about teaching and helping others achieve their goals. She has been actively teaching since 1998, and has experience teaching all ages and levels of ability.
Her main concern is that playing should be made easy and enjoyable; therefore she focuses on helping students achieve this by providing them with all the necessary technical and musical information through a variety of exercises designed not only to improve skills as a clarinetist, but also to provide ease of movement and avoid injury - inspired by Alexander Technique ideals. She believes music is life and that everything we do as musicians should be in order to better communicate and reflect the power within it.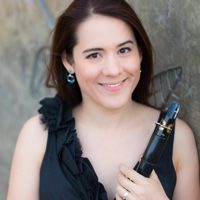 Dr. Ramírez believes that each person learns differently and at different speeds; therefore she tailors lessons based on the student's needs and interest while adjusting the type of repertoire, exercises and specific method (aural, reading, writing, imitation) to best help students achieve their goals.
If you are looking for a clear, focused sound in all dynamics and registers (an HD sound), flexibility and variety of sound, as well an improved musicianship, then she is the right teacher for you. You can schedule lessons with Dr. Ramírez in her private studio in San José, Costa Rica or via Skype. She offers a variety of options. Please contact her here for more information on private lessons.